First and foremost, Practical Women is a team. We all bring different skills and experiences to the team. What we enjoy most, however, is working together on projects. Many of our customers comment on the positive and collaborative atmosphere that Practical Women creates when we are working in their homes.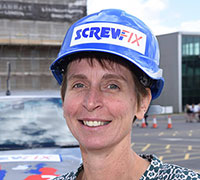 Caroline
Caroline is the Team leader and founder of Practical Women. She has been running the company for 5 years, but has been learning and using her practical skills since she bought her first house – a very long time ago (let's just leave it at that). Caroline really enjoys the Kitchen projects, because they use all her skills; electrical, plumbing, carpentry & problem solving.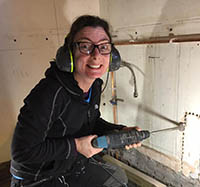 Caragh
Team Motivator
Caragh spent 30 years as an enthusiastic DIY-er and wood working hobbyist, before turning to the professional trades. She has worked as a volunteer for Bristol Wood Recycling Project and survived three house renovation projects. Caragh loves doing anything involving wood – shelves, doors, wardrobes, cupboards, decking, fencing, flooring, kitchens etc. She is a real multi-tasker and is currently expanding her carpentry skills and working towards her Level 2 Plumbing Diploma.
Claire
Recycling Queen
Claire joined the team in early 2018 when a move to Bristol prompted a career change into the trades. A short while later she found herself in an auction, scoping out her home to be. Said home has given her an opportunity to practice and develop a variety of skills including kitchen and bathroom fitting. She's always loved creating things (more often than not with some wood she's salvaged from somewhere), and has recently found a new love for tiling.
Sarah
Team Troglodyte
Sarah has worked with Practical Women on and off for the past 5 years. As she has so many different skills we keep losing her to other projects. When she is part of the team, she brings a range of electrical, plumbing & carpentry skills to the mix. Sarah is the Team Troglodyte, great for running cables and pipes!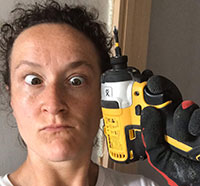 Harriette
Creator of Ear Worms
Harriette has been in the team for a year. Her main love is Electrical work, but she is very skilled in other areas, having recently done up her own house. Harriette is also the team singer and generator of ear-worms.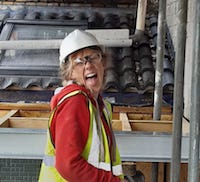 Catherine
Catherine is the newest member of the team. She has only joined us in the last few months, but has already shown herself to be a skilled member of the team. We are looking forward to getting her involved in more projects later this year.
Return to Work
Our Working Practices for returning to work post-Lockdown
DIY Support
If you feel you need some support with a DIY project, perhaps to finish it off, or put right something that didn't quite go to plan, please feel free to contact us & we will help you out.