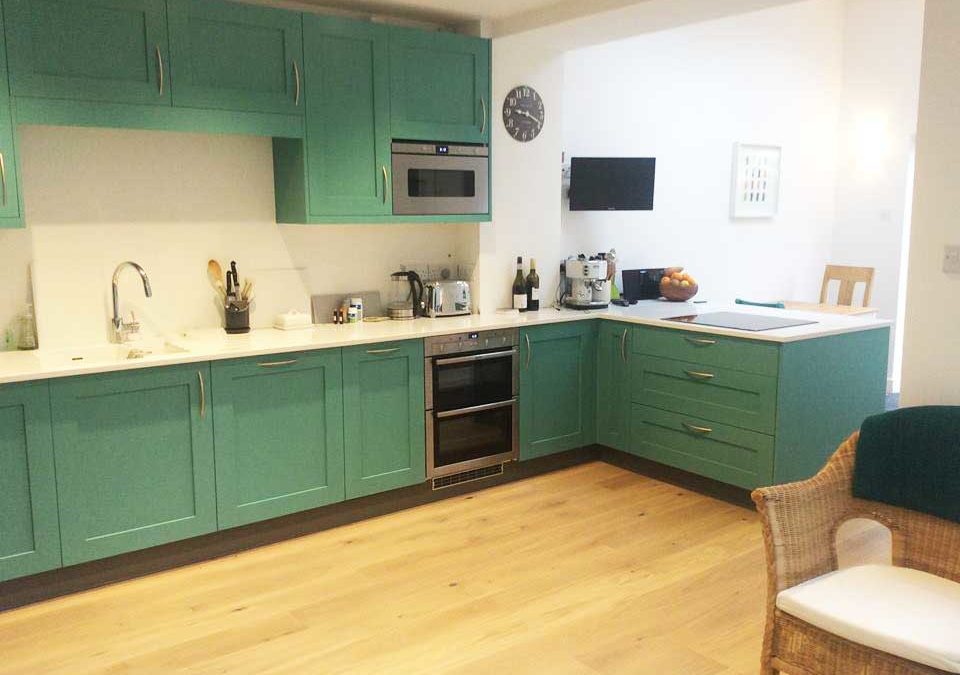 This kitchen was an extension project in a terraced Victorian house in South Bristol. A narrow galley-style kitchen was separated from the garden by a very cold utility room. The utility room had previously been a bathroom and had an uninsulated concrete floor. Because of a number of leaks over the years, the joists under the kitchen were very springy and believed to be rotten, and had never been insulated.
There was a large chimney breast between the kitchen and utility room, which blocked the view to the garden.
In addition there was an under-used and quite shady external side area to the side of the kitchen. The clients  wanted to incorporate this area into into the kitchen, to create a large, sunny open-plan room.
The structural building work was carried out by Stepping Stones Building, who took down both the chimney breast, and part of the side wall. They then installed steel beams to support the walls above.
The old external concrete floor was dug out, as was the cold concrete floor under the old utility room. They installed new joists and these were then fully insulated, before a new caberboard floor was installed on top.
A large electric Velux window was installed above the side-return, to maximise the light and two more Velux windows were installed above the dining area, creating a large airy space.
Once structural work and plastering had been completed, Practical Women installed the kitchen. Losing the use of a kitchen for any length of time, can be very difficult to cope with. Where possible we install a temporary sink during the project. In this case, if we needed to move the sink while we were working, we re-installed and plumbed it in each evening.
 The clients chose to have the cabinets installed along one wall, to maximise the space in the kitchen.
The cabinet layout was carefully planned. As the panels and doors were made to order, we were able to adapt some of the cabinets to accommodate the pillars supporting the steel beams. This also allowed the clients to retain a full size washing machine within the kitchen, hidden in a cupboard.